William Small in the Civil and Indian Wars
William Small, Company D, 7th Regiment Minnesota Volunteers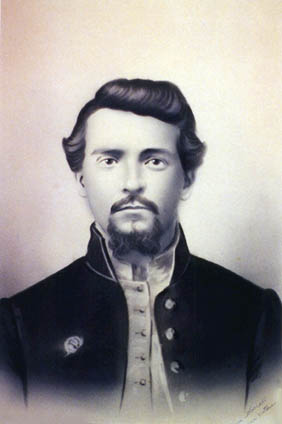 An 1890's charcoal-enhanced 16x20 enlargement of
William Small in uniform, from an unknown original
THE MINNESOTA SEVENTH REGIMENT INFANTRY
This regiment contained two full companies of Winona soldiers, and part of a third. CO'S B and D were exclusively recruited in this county, and several men from Co. G. The whole number enlisting from the county in the regiment being 258, nearly double the number enrolled in any other regimental organization, as having enlisted here. The names of officers and men, as they appear, upon the rolls of Co's B, D, G, are:
Quarterm., Henry C. Bolcom; Serg. Maj., Alvah E. Dearborn; Com. Serg., Geo. L. Richardson; Prin. Mus., Henry H. Rogers.
Co. B-Capt., John Curtis; 1st. Lieut., Albert H. Stevens; 2d Lieut., Archibald A. Rice; Sergs.: Ermon D. Eastman, John W. Wilson, C. C. Chapman. John Hammond, James McDonald; Corps.: Geo. L. Coburn, Geo. E. Merrill, Henry G. Bilbie, Stephen Mills, Samuel H. Harrison, Henry H. Rogers, Myron Tomes, James T. Rammes; Mus.: Benj. B. Evans, John Pritchard; Wagoner, Jas. H. McFarland; Privates: Ethan W. Allen, Obed Averell, Geo. Blackwell, Geo. E. Brown, H. C. Bolcom, Charles Billings, Emerson W. Bigelow, Alfred Bartlett, Wm. Burns, Hiram W.W. Bell, Jacob C. Beach, Geo. W. Buswell, Napoleon Chamberlin, Collens Corey, John Clears, Harry Clark Robert Cully, Edward Dowling, Daniel Dana, Alvak E. Dearborn, James D. Daniels, Joseph Dalley, Jacob Deacondress, David Dubblebies, Benjamin Every, Maurice Fletcher, Geo. E. Fletcher, Oscar Gougins, John Hughs, Thomas Hanley, Barzelia B. Howe, George Holbert, Joseph Hazen, Janes B. Howell, John R. Harris, Albert T. Hough, Edwin C. Hinckley, David A. Kenedy, Watson Lamson, Joseph Larney, Richard D. Lefler, James Lynn, John Lighthall, James Moaks, Jerry Murphy, Henry Mountain, John W. Moore, Winborn S. Marsh, Noah D. Marsh, Isaac M. May, Edwin S. Metcalf, Robert F. Norton, William Newman, George P. Nichols, Zedekeah Neal, John B. Presswick, Douglas F. Pierson, Martin V. Post, Hiram Phillips, Phileties A. Phillips, David A. Penkman, William S. Patterson, Frank C. Richardson, Geo. W. Raymond, Wm. P. Rogers, William Stevens, Ernst Shuman, Leander Slade, Maurice W. Taylor, Ulrick Therman, Alanson Turner, Jeptha Turner, Samuel G. Wright, Anselius Wilgus, Levi Ward, Amos B. Watson, Charles E. Bradt, Francesco Burley, David Q. Burley, Jeremiah Biram, Wheelock Carpenter, John Debois, James L.Denman, Eugene Fadden, Harry Gray, Calvin V. Gray, John Ginney, Moses M. Haines, Peter J. Hammer, F. D. Joy, Thomas H. King John Knible, William Lewis, Peter LeMay, Thomas C. Marsh, John W. Murphy, J. B. Norton, Martin V. Oliver, Geo. L. Richardson, Henry Sleinbeck, John F. Smith, Cornelius P. Turner, John W. Thackery, Jacob Turner, William Wright, William Watson, John N. Miller.
Co. D-Capt., Rolla Banks; 1st Lieut., Norman Buck; 2d Lieut., Zebedia W. Marsh; Sergs.: Martin Robinson, Malcolm Clark, Franklin Kideto, James M. Canfield, Chares J. Kenyon; Corps.: Mathew Monahan, A. S. Hagay, Helkiah Lilley, Franklin Webb, Louis P. Grout, Geo. A. Carsley, Thomas Davidson, Levi B. Whillock; Mus.: Alson Barton, Wm. Shay; Wagoner, John Morrison; Privates; Isaac Bertrand, Charles Brewer, Chas L. Blair, Geo. Bissett, Abert C. Buck, John B. Berry, John Bolin, John Bissett, James J. Berry, Charles L. Berghart, Jefferson Buthrick, Edwin Brown, Asbury B. Clark, Daniel M. Cooper, Dudley C. Cass, Gilbert C. Corey, Daniel H. Cherry, John Cripps, Albert J. Clark, Robt. W. Davidson, James Davis, John A. Dickson, Geo. H. Ellsbury, John Frederick, Eugene Fay, Judson W. Fuller, Geo. M. French, Albert H. Fuller, Arnold W. Grout, Orrin Grout, Oliver P. Gales, Edwin D. Gilbert, Fletcher C. Harvey, Henry C. Hitchcock, Henry W. Hughes, Irvin M. Hill, John Hanley, John K. Howe, Thomas Hartley, Melzar Hutton, Edward D. Jackson, Horace E. Jeffrey, George V. Jenkins, Levi D. Libbey, Benson Lee, Gardner W. Lee, John Leighton, Daniel G. Leighton, William Montgomery, Malcolm Mott, Samuel McCann, Ober Nelson, Arnold Newcomb, Stephen L. Northrop, Wm. O'Hara, Edgar A. Perkins, Daniel Phelps, George Richardson, Rufus Reed, Daniel Stedman, Benjamin F. Shaffner, William Small, Henry L. Small, Morgan J. Thomas, Mark Thompson, Calvin J. Vance, Jacob Van Slyke, Edwin D. Wilmot, John H. Whillock, Andrew Winget, Chas. F. Wegener, Edmund Wright, William Brown, David J. Butterfield, Elles Brickert, John L. Burton, Andrew Bathrick, Henry Barker, Alvan Canfield, Herman Canfield, William Edwards, Henry Ehrendreich, Charles E. Eves, Henry T. Hysell, Elmore D. Hysell, Wm. Lynch, Phileoman Lee, Hiram W. Mallory, Wm. W. Parker, George Pinkham, Wm. D. Parks, Delos M. McReady, Philip Safford, Hialmer Stone, Martin Schultz, Albert M. Smith, Joseph Roberton, John R Woodworth, Christian Walker, William C. Sweet.
Co. G-Privates: Edward Hewett, Ole N. Holverson, Ole Larson, Olans Larson, Henry Murray, Wm. Nolan, Foster Peterson, Peter Peterson, Ole J. Skadson, John Weaver, Ole H. Wentzell.
This regiment was mustered into service in August, 1862, but instead of being ordered south, as the men so much desired, they were sent to the frontier in the expedition against the Indians, where hard marching, little fighting and no glory was the order of the day. In September, 1862, they had a brush with the Indians, at Wood Lake, in this state, and spent the winter of 1862-3 in the forts on the Indian frontier. In May, 1863, they were ordered upon a second Indian expedition, and were engaged with the hostiles during the latter week in July of that year, at the battle of Big Mound, so called by way of distinction, but the campaign soon ended, and on October 7, 1863, the regiment was ordered to St. Louis. In April, 1864, they were sent to Paducah, Kentucky, from thence to Memphis, Tennessee, and in June of that year were assigned to the 16th army corps. Under Gen. A. J. Smith they started from Salisbury, fifty miles east of Memphis, on the 17th of July, 1864, and skirmishing with Forrest's cavalry reached Tupelo, Mississippi, July 14, where the rebel general had concentrated his command, 14,000 strong, and where he had resolved to fight. Three times the assault was made upon the Union lines and as often repulsed, Forrest being finally driven from the field with the loss of as many killed as the Union army had in both killed and wounded. August 7 and 8, 1864, the regiment was in action at Tallahatchie, and were thence ordered into Arkansas to pursue Price. Took part in the chase from Brownsville, Arkansas, to cape Girardeau, Missouri, thence by boat to Jefferson City, thence to the Kansas border, and finally to St. Louis. The regiment was also engaged in the battles of December 15 and 16, 1864, at Nashville, Tennessee, and at the siege of Mobile, in April, 1865. The war having closed and their term of enlistment having expired, they returned to the state and were mustered out at Fort Snelling, August 16, 1865, having been in the army at the south nearly two years.
History of Winona County (Chicago: H.H. Hill and Company, Publishers, 1883), pp. 921-923.
---
Documents
William Small's Enlistment Certificate 1862
William Small's Discharge Certificate 1865
Autobiography of Charles Blair, who served with William Small in Company D, 7th Regiment Minnesota Volunteers, including his entries during the Civil War
History of the Minnesota 7th Regiment Volunteers
Sophia Small's Application for a Widow's Pension 1890
Henry Talbot's Affidavit in Support of Sophia Small's Widow's Pension Application 1890
William Watson's Affidavit in Support of Sophia Small's Widow's Pension Application 1890
Abraham Wiltse's Affidavit in Support of Sophia Small's Widow's Pension Application 1890
Sophia Small's Widow's Pension Award Letter 1891
---
Links About the Dakota Conflict [Sioux Uprising] of 1862:
http://en.wikipedia.org/wiki/Sioux_Uprising
http://www.d.umn.edu/~bart0412/project.htm
http://www.woodlakebattlefield.com/
Links About the Battle of Nashville, December 15-16, 1864:
http://www.civilwarhome.com/nashville.htm
http://en.wikipedia.org/wiki/Battle_of_Nashville
http://www.civilwarhome.com/CMHnashville.htm
Hand-tinted tin-type image of William Small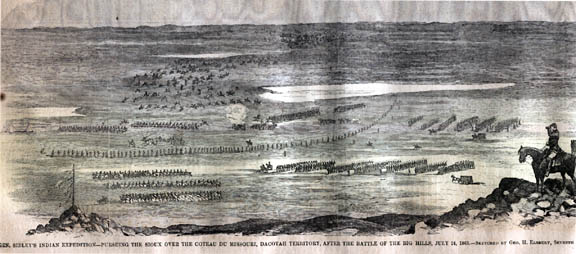 The chocolate-colored thermal plastic case containing William Small's tin-type
General Henry Sibley's forces in pursuit of the Sioux in Dakota Territory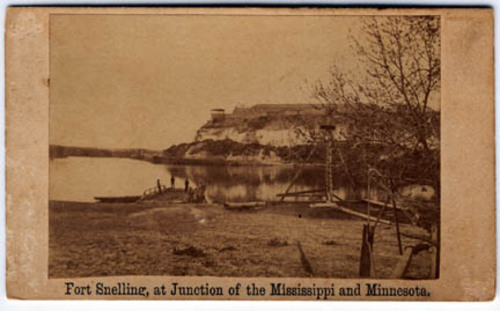 Fort Snelling during the Civil War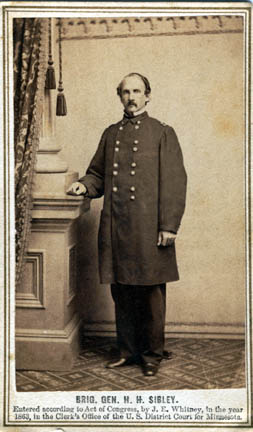 General Henry Hastings Sibley